Have any of you seniors had a senior moment lately? lol I thought I was doing really well since getting on medicare. hehe I proved myself wrong twice this week!!! Yikes!!!!
Monday at 2:30 Gary told me to get around and we would go eat in the little town 14 miles east of us. I asked if he wanted me to invite Bud and Hazel to go with us (they are 92 and 95 years old). He said what ever I wanted to do. I told him that I would tell them we would pick them up around 4:30. Gary said make it around 5:00 so he could put the miniature horses up and feed them. I made the statement to him that was good because it would give me a couple of hours. (Shaking my head at this moment!). I got around thinking I had plenty of time. I got up and walked by the microwave and glanced at the clock and it said 4:30!!! I walked back into the dinning room and looked at the clock that I keep track of time with and it said 2:52 !!!! I asked Gary what time it was. He said 4:30. No wonder I have been so tired!!! Wonder how long that clock has been wrong?? I think it was alright about 3 days ago?? I always just look at that clock when getting ready for bed. I don't know why I don't watch the clock on the computer?? The clock needed batteries!! It is a bird clock. Everytime the hour comes up... a bird sings. My mother bought it for me one year for Christmas.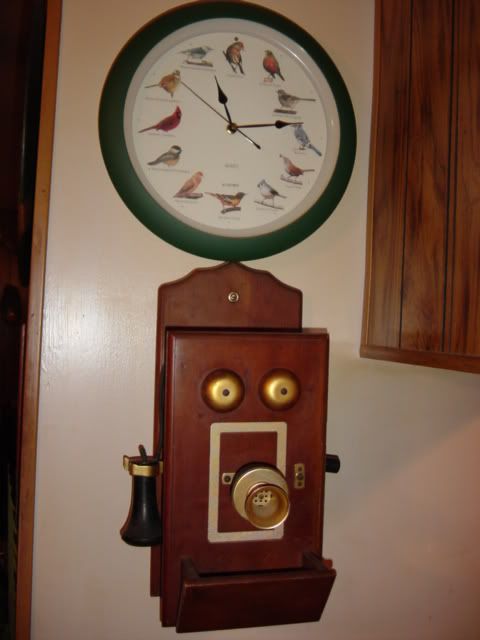 Sunday I wore a vest that I had never worn. It is a tiger strip (dark blonde and black stripe). I bet it has hung in my closet for 1 1/2 years. I wore it to church Sunday. I got a little warm and took it off through the service. When I got ready to put it back on I saw it still had the price tag hanging in the neck! Good thing it wasn't hanging from the arm pit!!
We went to the Assistant Living yesterday. Gary was in a hurry and wanted to get the oil changed in the truck so we had to leave 30 minutes early. I grabbed 2 cassettes, rewound them, and took off. I took 2 older songs that I was sure I knew. "Old Rugged Cross" and "It Is No Secret". I got ready to sing and I forgot the words to Old Rugged Cross!! It does not matter that Gary has retired and doesn't have any place to go... he is always in a hurry!! By the time I get some place I am exhausted from him rushing me. lol
We had a sweet surprise on our mailbox Monday. The lady that gave us Harley (the burro) had left it for us. She lives 3 houses east of us. She had written a note and taped it.
Well, this is hoping that all of you have a wonderful day. I am upset with the lady that did my eye examine. Why can't a person get things done correctly anymore?? lol All of you are in my prayers. God Bless, Janie