Yep! This is my new Harley! He has 2 big handle bars! lol He is now the new kid on the block! He is 11 years old and he was free!! WooHoo! He also came with worm medicine, his booster shot, and fly repellent! Now how can you do better than that?? lol He has the cross on his back like the one Jesus rode.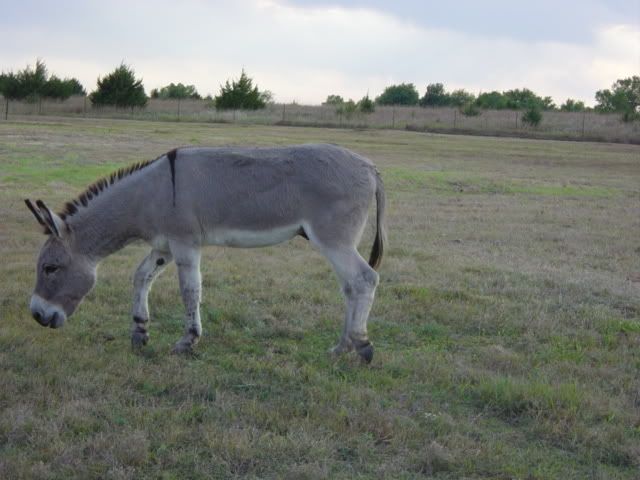 Three months ago we had to put our old burro down! :( Last week the lady that lives east of us stopped and asked if we wanted a burro. I was really leary about this, something free is usually not free. Hmmm Well they brought him to us at 5 this evening in their horse trailer. It was sooo funny to watch him. They have owned him for 3 years. He has been in a small lot all summer and he kept getting out to be with the horses. When hubby asked if he liked horses she told him that was Harley's problem, he loved horses. He scared the high dollar horses that they board. I can understand now why he scared them!! The minute that he saw Miss Gracie he took out running as fast as he could baying all the way! She looked so funny at him! I wish I had took my video camera to capture it. She was on guard and really didn't know what to think. She got pretty fistey around him but he kicked at her and she backed off. Within 30 minutes they were grazing with each other like they had been buddies for years!
I saw something in Miss Gracie that I have never seen before!! This is a $200 horse that someone just did not have time for. She is only 3 years old. I think she is a beautiful horse. She saw the horse next door and they are really good friends. :-) She did not want to leave Harley (amazing) and she arched her neck and pranced and raised her tail. Wow! Harley's owners work with polo horses and she said... "Look how proud she is! She is beautiful." I wonder if I will be able to capture a photo of her doing that again... I hope so!! I could not get a close up photo of her.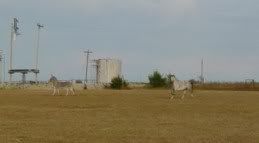 Now Speedy Moon is a different story!! He is a stallion.... pint size stallion! He is the boss and acts just like a stallion!! Speedy Moon charged the fence at Harley! Harley ran like he had been shot. Speedy Moon is the little brown and white. Miss Gracie stood between Speedy Moon and Harley. To protect the little ones is what I think. Animals are so smart.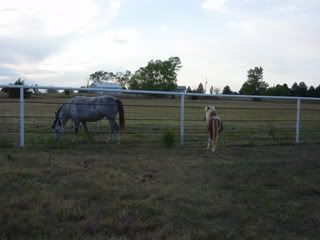 Miss Gracie wants to know if you want to give her some sugar?
Wishing all of you a wonderful weekend with lots of blessings. All are in my prayers. God Bless with hugs, Janie